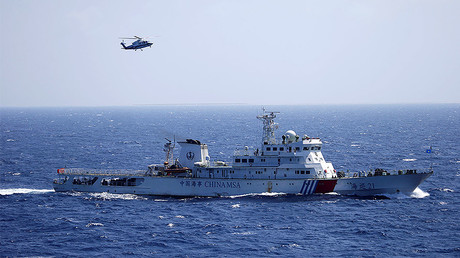 Beijing should be denied access to islands it has built in the disputed South China Sea, according to Donald Trump's nominee for secretary of state, Rex Tillerson, who likened the construction to "Russia taking Crimea" from Ukraine. Read Full Article at RT.com...
8 Published By -
rt
- 2017.01.12. 11:10
Related Posts
Older News
Is Donald Trump changing his stance on NATO? cnn.video (Yesterday) - Donald Trump's comments on NATO have frightened some European officials while questions remain on his stance toward Russia. CNN's Barbara Starr reports....
Politics › Okinawan governor to visit U.S. to convey anti-base stance to Trump gov't japantoday.com (Yesterday) - Okinawa Gov Takeshi Onaga will visit Washington soon after U.S. President-elect Donald Trump takes office Friday, hoping to convey to the new administration his opposition to a plan to move...
Gadget mountain in Asia threatens health and environment dailymail.co.uk (Yesterday) - China was the biggest culprit with its electronic waste more than doubling, according to a new study by the United Nations University....
UN chiefs call for urgent access to get aid to people still under siege in Syria theguardian.middleeast (Yesterday) - In a statement in Davos, UN humanitarian agencies issue joint appeal to reach hundreds of thousands of Syrian families and children in needThe heads of major UN organisations on Monday...
Hotels see renovations and rebranding as solutions to region's tough market thenational.business (Yesterday) - Hospitality companies are putting their investment money into their existing properties instead of new ones amid tough market conditions....
China warns "rookie" Trump not everything "can be bargained" cbsnews.com (Yesterday) - Gov't maintains relatively muted line on Trump's suggestion Taiwan stance could change, but state-controlled press pulls no punches...
It's 'gloves off' if Trump continues his Taiwan line as president, China Daily warns rt (Yesterday) - China has hit out at US President-elect Donald Trump over his Taiwan policy again in an editorial in the state daily. This time it's "gloves off" if Trump does not...
Beijing Spins a Web of Chinese Infrastructure - Wall Street Journal google.com (Yesterday) - Wall Street JournalBeijing Spins a Web of Chinese InfrastructureWall Street JournalBEIJING—As the U.S., U.K. and others hit pause on globalization, China is flexing its economic muscle with an ambitious infrastructure-building...
Duterte threatens with martial law neweurope.eu (Yesterday) - Philippine President Rodrigo Duterte threatens to impose martial law as part of his crackdown on illegal drugs. "I tell you now, if I have to declare martial law, I will...
China will 'take the gloves off' over Taiwan: Media straitstimes.asia (Yesterday) - January 16, 2017 4:25 PMBEIJING (AFP) - China is running out of patience with Donald Trump's stance on Taiwan, state media said on Monday (Jan 16), and will "take the...
Tillerson's animosity toward China bodes ill if acted upon: China Daily straitstimes.asia (Yesterday) - January 16, 2017 2:56 PMIn its editorial on Jan 13, the paper expresses concern over United States secretary of state nominee, Rex Tillerson's views against China....
China is building more magnetic levitation trains cnbc.latest (Yesterday) - A new project in Beijing affirms the nation's commitment to advance its public transportation....
China should stop intervening in FX market and let yuan float- researcher dailymail.co.uk (Yesterday) - SHANGHAI, Jan 16 (Reuters) - China should stop intervening in the foreign exchange market, devalue the yuan and let it float freely to restore stability, a s......
China to Trump: Taiwan issue 'nonnegotiable' japantimes (Yesterday) - China's foreign ministry on Sunday again rejected President-elect Donald Trump's suggestion that he might use American policy on Taiwan as a bargaining chip between the two sides. Ministry spokesman Lu...
Conflicting signals over China policy straitstimes.world (2 days ago) - January 16, 2017 5:00 AMWASHINGTON • The incoming United States administration's tough talk against China has set the stage for showdowns on everything from security to trade to cyberspace....